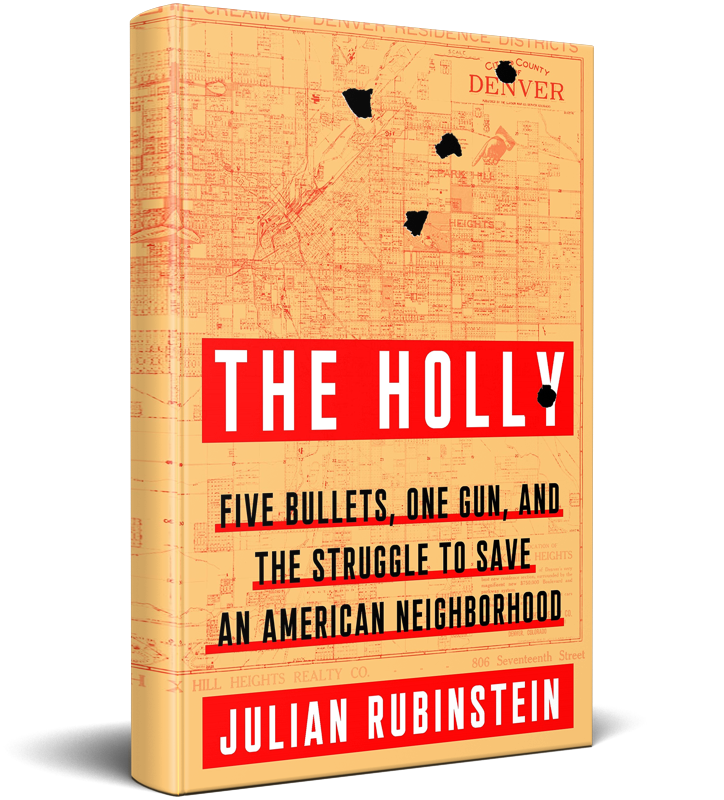 Five Bullets, one Gun, and the Struggle to Save an American Neighborhood
A New York Times Editors' Choice
Winner of the 2022 Colorado Book Award
Winner of the 2022 High Plains Book Award
Now a documentary film, directed by author Julian Rubinstein.   Learn more →
"A shattering piece of investigative journalism involving street gangs, race relations, and law enforcement… Dramatic and wrenching."
—Booklist
* Starred review, Best Books of 2021 Pick
Five Bullets, One Gun, and the Struggle to Save an American Neighborhood
More Praise for The Holly
The Holly is a triumphant achievement that fully brings the iceberg of criminal justice issues to the surface and exposes it for all to see. Not only is it one of the most important nonfiction books to be published in recent years, but it should be essential reading for anyone who wants to understand the extent to which this country's criminal justice system is currently broken….It is a 300-plus-page condemnation of police procedures, gang-related justice missteps, and systemic racism that led not only to Terrance Roberts shooting Hasan Jones, but to so much gang violence over so many years.
Scott Neumyer, Shondaland
Drawing on rich research and extensive reporting, Rubinstein sets out to chart the social and historical forces that joined two men and a 9-millimeter automatic pistol on a late September day, in the neighborhood known as the Holly … By exposing the state surveillance, the crooked policing, the structural racism, the broken promises and the poverty that had plagued the Holly for decades, [Rubinstein] helps us realize that the problem of violence is far greater than two men and one gun.
Marcia Chatelain, The New York Times Book Review
Rubinstein does not merely retell the events before and after the shooting but rather illuminates the dynamics that help explain the Black rage that has spilled into American streets over the past two years… Rubinstein artfully connects the dots between the rise of gangs, the long-ago shooting that put Roberts on trial, and the ongoing protests sparked by unjust police killings of Black citizens… His reporting often found him asking uncomfortable questions of both gang members and law enforcement officials, each trying to protect their turf. That kind of reporting takes guts… For those of us who are suckers for telling details and character complexity in nonfiction narratives, Rubinstein delivers… It's an important read.
Martin J. Smith, Los Angeles Review of Books
The Holly is a powerful, up-close look at the criminal, political, and economic forces that can erode a community. But Rubinstein makes it clear this story isn't just about Denver….If you want to understand the origins of the violence ravaging many urban areas and the challenges faced by one man trying to stop it, read The Holly.
Denver's racial history is explored superbly in Julian Rubinstein's compelling new book, "The Holly – Five Bullets, One Gun, and the Struggle to Save an American Neighborhood." Northeast Denver is the primary setting of this page-turner, which explains why Blacks populated Five Points and Park Hill. Rubinstein addresses Black flight from America's South, Colorado's Klan past, redlining and court-ordered school desegregation. To write "The Holly," Rubinstein deeply embedded himself in Denver's ongoing gang war…"
Rubinstein connects historical dots between two volatile and externally fueled cycles of birth, death and rebirth on a pivotal Northeast Park Hill block. He also draws parallels between the late 1960s and the current era, anxious times at the intersection of Black politics and surveillance and provocation by police…. For people who didn't know the history when the shooting was in the news, Rubinstein turns that day from a caricature into a Renaissance painting…. While the book hops to Los Angeles or Ferguson, Missouri, for critical context, its dedication to a short list of specific Denver settings is one of its greatest strengths.
The Holly serves as a case study of what has happened and is happening in cities across the country… There are so many threads to this book and Rubinstein braids them together in a compelling multi-generational saga… Rubinstein details the intricacies and contradictions that exist between law enforcement and Black America through the lens of Northeast Denver and the shocking shooting of a gang member by a local anti-gang activist. He also manages to shine a light on the cost of gutting local newsrooms… For anyone who wants to understand systematic racism in tangible ways, Julian Rubinstein's investigative work makes it undeniable.
Bonnie Jean Feldkamp, Pittsburgh Post-Gazette
The book… is an explosive story that sheds light on the issues rarely seen or covered. Among the findings are the misuse of informants and the questionable operations of America's premiere federal anti-gang and anti-gun program, Project Safe Neighborhoods. It also draws parallels between the civil rights movement and present-day America by asking whether activists in gentrifying communities are being targeted by those in power.
David Sirota, The Daily Poster
The Holly is a book that should be written about every city. It is a fearless dive into the stories of oppressed people in Denver. It carefully constructs the backdrops of purposeful economic underdevelopment, the destruction of organizations like the Panthers, and the growing power of the police and criminal justice system to tell its story. It honestly shows a collection of struggles still in motion…. It provides a valuable education to a young movement about the power of the state and its many arms, and gives hope that those struggling for justice can fight, and can win.
Ryan Hamby, Liberation News
Patiently unraveling the strands of personal, communal and national history that are knotted up in Roberts' shooting of Jones, Rubinstein traces their origins and ends up with a thoroughly gripping portrait of how power operates in the modern American city.
In a quest to find answers, Rubinstein moved back to Denver and followed Roberts and other residents of Denver's northeast Park Hill neighborhood for years. What he discovered could rival any true-crime program.
The book is a microcosm — the story of Terrance Roberts, told all the way through the recent Elijah McClain protests last summer. But it is also a macrocosm — of Denver's racial history, of the eruption of gangs nationally and locally, of law enforcement's attempts and failure to combat gang violence. The book also delves into many of the issues facing growing, gentrifying cities like Denver, including the social costs of urban redevelopment, community displacement and rise in crime. At its essence, it's the story of a neighborhood, Northeast Park Hill, and one of its hubs, The Holly, which was burned down in 2008 in an act of gang retribution. Rubinstein allows its African American community to tell its own stories, while … steering a compelling narrative. The Holly is a must-read for anyone seeking a deeper understanding of Denver and the social and socio-economic issues we are grappling with today.
Shana Goldberg, Intermountain Jewish News
Seldom have I encountered a feat of storytelling as memorable or richly textured as The Holly. With the utmost skill and empathy, Julian Rubinstein weaves together the absorbing tales of a city roiled by breakneck growth and a man determined to elude the ghosts of his destructive past. The result is a book that poignantly illuminates the joys and pitfalls of reinvention in America, a country forever struggling to live up to its mighty promise.
Brendan I. Koerner, author of The Skies Belong to Us and Now the Hell Will Start
Julian Rubinstein dives deep beneath the deafening sound of a gun shot to reveal the layers of violence that America reaps on its inner cities. Through the compelling life story of Terrance 'ShowBizz' Roberts, the Apostle Paul of Park Hill, The Holly forces us to bear witness to a series of underground wars in the invisible parts of our cities that have been left to die for too long. Rubinstein just wanted to 'pay attention' to his hometown's gang violence but uncovered a rich and tragic history of gangsterism that connects the street corner with the courthouse and the boardroom. This gripping story of political collusion, murder, and redemption is a page turner with a propulsive weight of urgency.
Davarian L. Baldwin, author of In the Shadow of the Ivory Tower: How Universities are Plundering Our Cities and Chicago's New Negroes
[A] haunting story … In a multigenerational saga that builds toward a suspenseful courtroom drama centered on [a] trial for assault and attempted murder, Rubinstein—who lives in Denver—creates a historical palimpsest that sets its events against the backdrop of broad social and political changes … The author offers especially sharp and well-developed scrutiny of the use of active gang members as confidential police informants … [An] important book.
This vivid story of redemption and loss offers profound insights into the forces that plague America's inner cities.
Rubinstein … has constructed a shattering piece of investigative journalism involving street gangs, race relations, and law enforcement … This is a gripping deep dive into media underreporting and too-quick judgment, and, most shockingly, into how the criminal-justice industrial complex may be invested in systemic corruption designed to keep drug wars going. Dramatic and wrenching.
Connie Fletcher, Booklist
Every city has a parallel society that many residents choose not to see. Julian Rubinstein digs deep into what he calls the 'invisible Denver' of his hometown to find astounding cross-currents of trouble, heroism and love. Only through his careful reporting could the redevelopment of a shopping center resemble a Colorado mining boom and the leadup to a ribbon-cutting at a Boys and Girls Club assume the drumbeats of a march to the executioner.
Tom Zoellner, author of Island on Fire: The Revolt That Ended Slavery in the British Empire, winner of the 2021 National Book Critics Circle Award
If you, like others, have wondered about the connections between the end of the civil rights/Black Power movements and the onset of America's gang war, or whether activists who oppose gentrification and racist policies are the targets of informants, this book is mandatory reading. My father, the head of the Denver Black Panthers, was persecuted for his advocacy in his time in a way not unlike the way Terrance Roberts is now, with deadly consequences. The Holly is a decades-long crime thriller straight outta the shadows of invisible Denver, an unforgettable tale you won't hear in the mainstream media and a riveting wake-up call to activists, community organizers, and criminal justice advocates.
H-Soul Ashemu, Denver community activist and Chief Visionary Officer for the Righteous Rage Institute and Power of Soul Ltd.
Don't let the snow-capped backdrop of the Rocky Mountains fool you. In The Holly, Julian Rubinstein reveals Denver, Colorado to be a crucible of so much that's wrong in America: the chasms of race and class that divide the nation; corrupt policing; systemic discrimination. This story of struggle spans the era of the Black Panthers to Black Lives Matter. Law enforcement is after the hero of this book—Terrance Roberts—in a drama brought to life by Rubinstein's fearless reporting.
Dale Maharidge, Pulitzer Prize–winning author of And Their Children After Them
Plaintiffs admitted that they had not even seen the film they were suing us over. The Holly survives yet another attempt to derail it—precisely because of the truths it contains.
"Under firmly established legal precedents, none of the statements identified in your Complaint can give rise to a valid libel claim…"
On Feb 15, 2022, I sat down with Pulitzer Prize-winning journalist Wesley Lowery at Colorado College.
On the last Friday evening of the summer of 2013, five shots rang out in the parking lot of a new Boys & Girls Club in a part of northeast Denver known as the Holly. Long a destination for African American families fleeing the Jim Crow South, the Holly had become an "invisible city" within a historically white metropolis. While shootings weren't uncommon, the identity of the shooter that night came as a shock. Terrance Roberts was a revered activist. His attempts to bring peace to his community had won the accolades of both his neighbors and the state's most important power brokers. Why had he just fired a gun?
In The Holly, the award-winning journalist Julian Rubinstein, who grew up in Denver, reconstructs the events leading up to the fateful confrontation that left a local gang member paralyzed and Terrance Roberts on trial, facing a life in prison. Much more than the story of a shooting, The Holly is a multigenerational crime story that explores the porous boundaries between a city's elites and its most disadvantaged citizens, as well as the fraught interactions of police, confidential informants, activists, gang members, and ex-gang members trying—or not—to put their pasts behind them. It shows how well-intentioned urban renewal may hasten gentrification, and what happens when overzealous policing collides with gang members who conceive of themselves as defenders, however imperfect, of a neighborhood.
In the era of Black Lives Matter and urgent debates about the future of policing, Rubinstein offers a nuanced and humane illumination of what's at stake.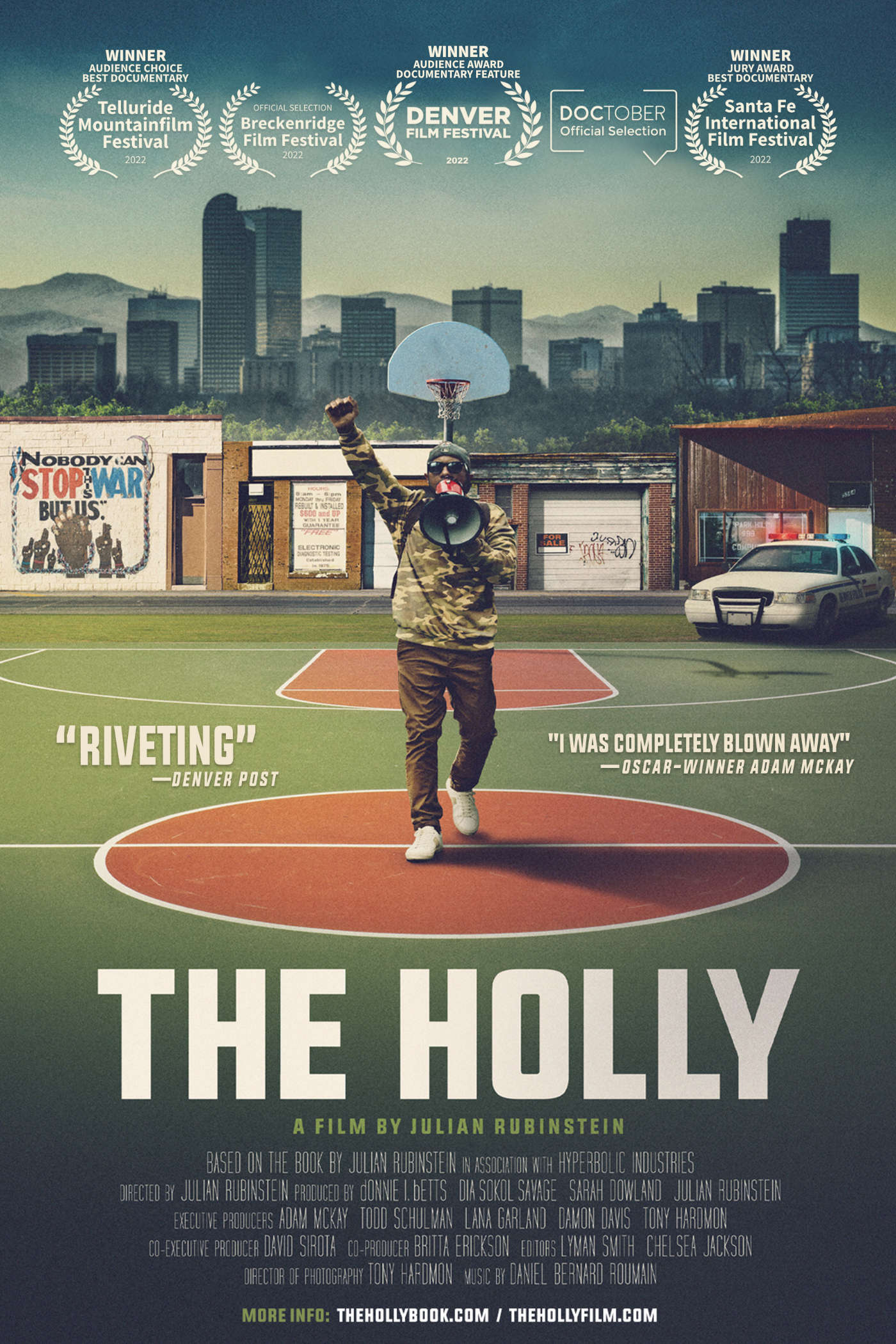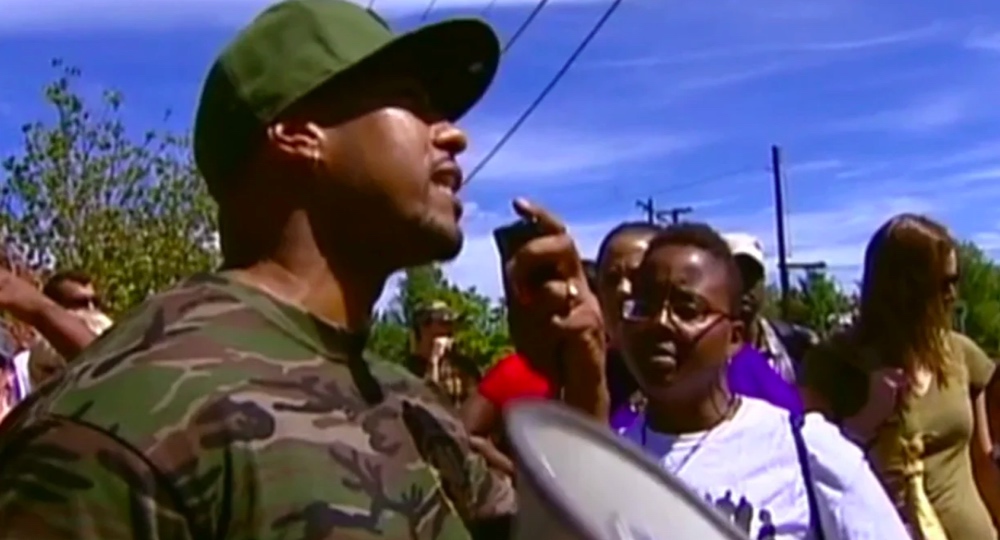 Terrance Roberts circa 2011 at a Colorado Camo Movement event.
Denver Black Panther founder Lauren Watson and other Denver Panthers in 1968. (Denver Post)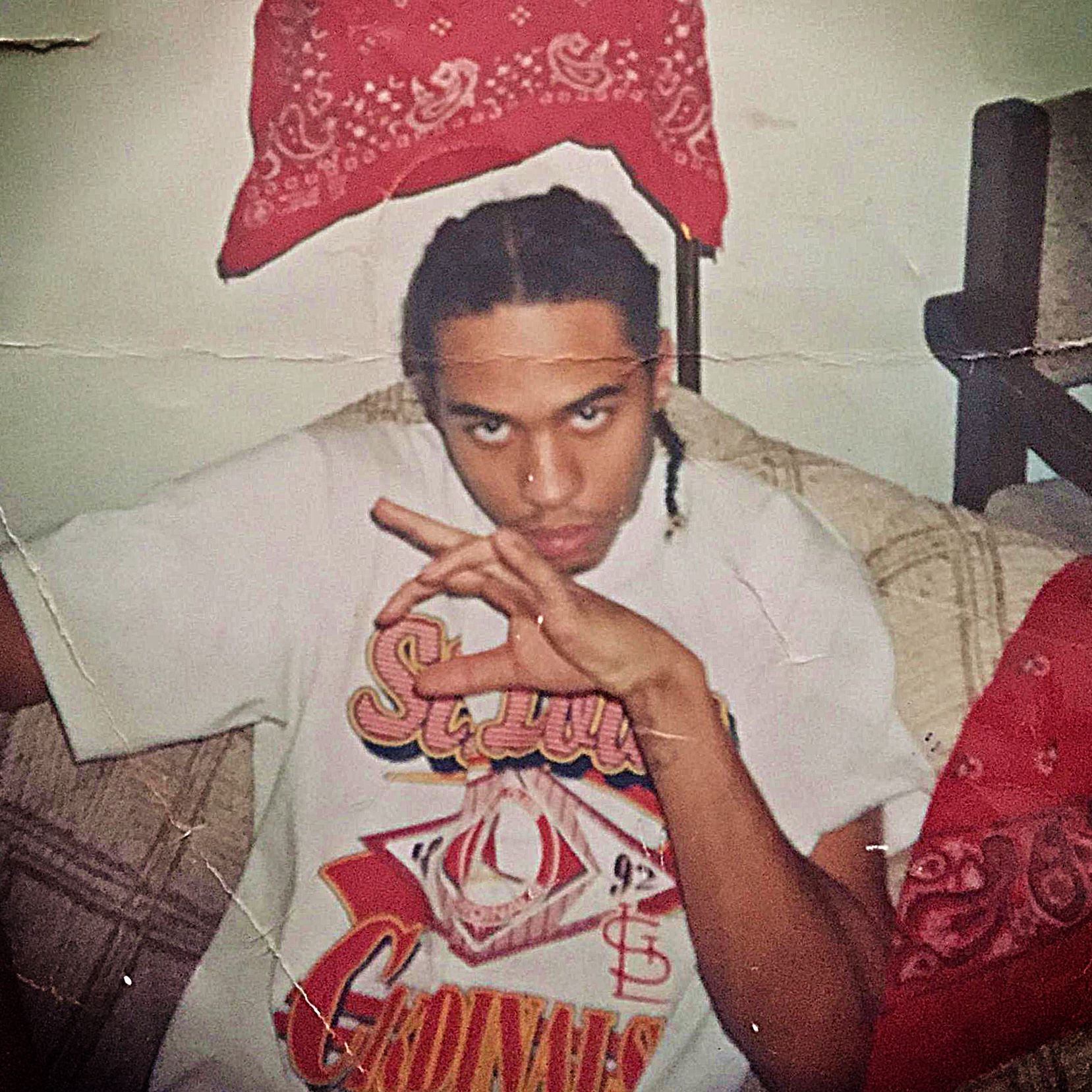 Terrance, age 17, soon after being "put on" the hood as an official Blood, flashing gang signs, circa 1993.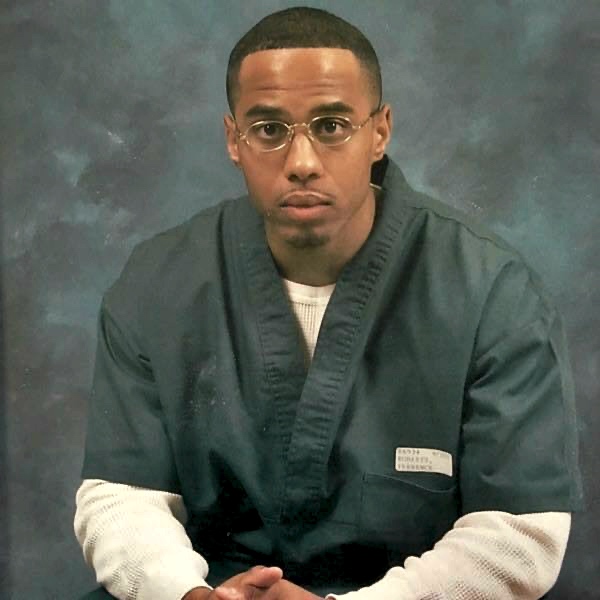 Terrance in Colorado's Fremont Correctional Facility in 2002 or 2003, serving a sentence for shooting at another Blood's car. He had disavowed his gang membership and would be released in 2004.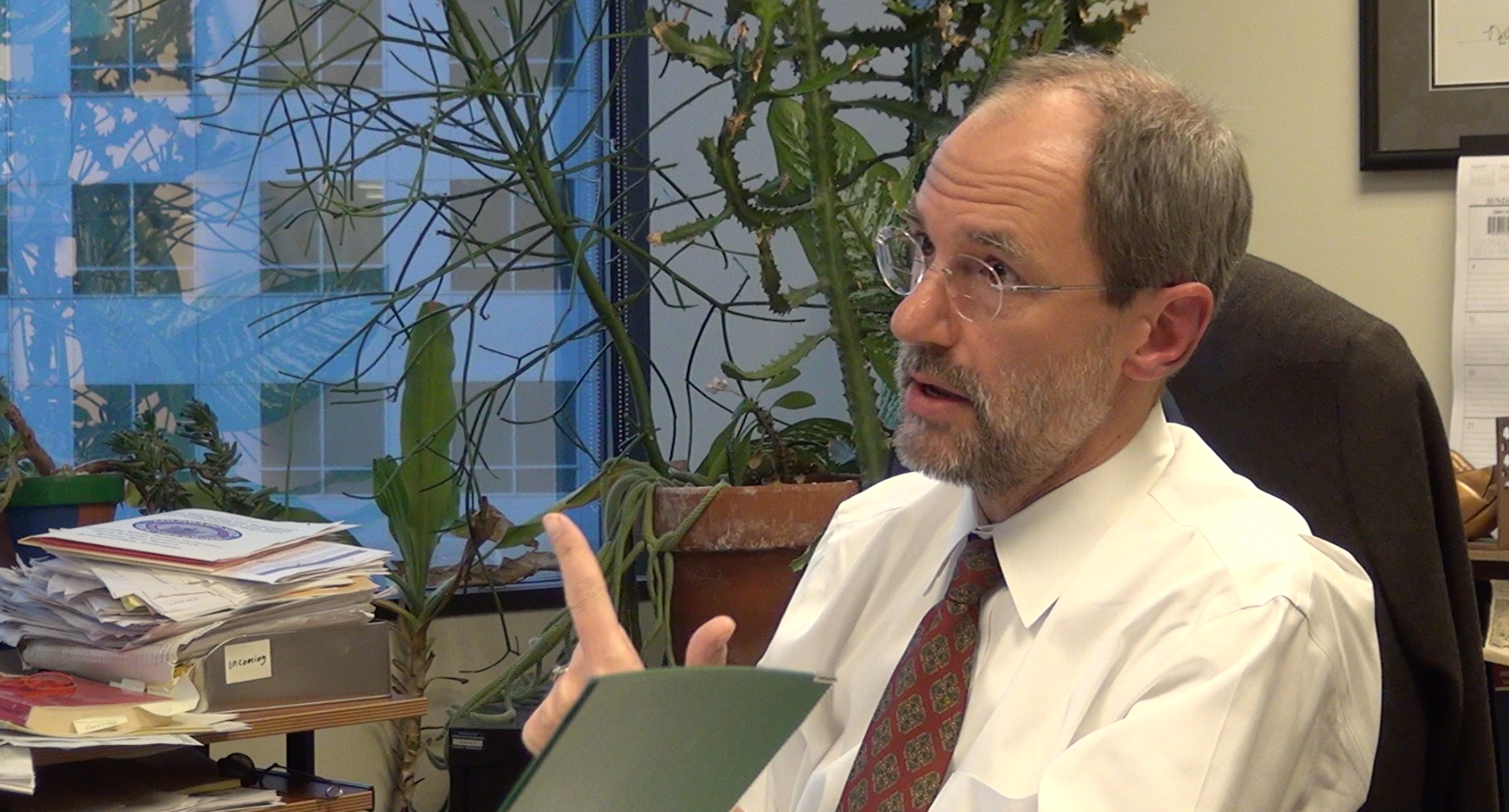 Marshal Seufert, Terrance's defense attorney, meets with his client in 2015. Terrance faced life in prison for shooting Hasan "Munch" Jones at his own peace rally.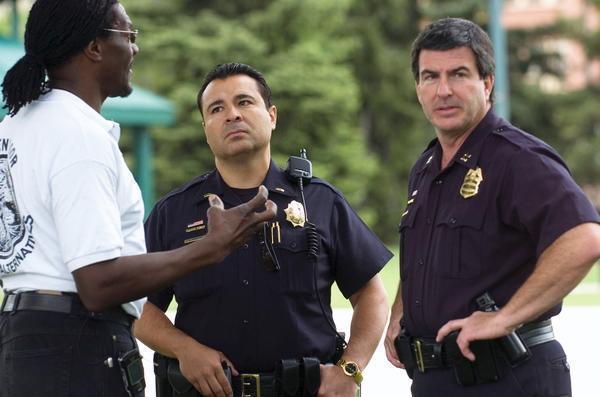 Rev. Leon Kelly (left) and Gang unit captain Mike Calo (right) after Crips founder Mike Asberry's murder leads the Crips to burn down the Holly Shopping Center, 2008. (Denver Post)
Terrance leads a march through the neighborhood after the Holly Shopping Center is burned down. (Denver Post)
Aaron Miripol, President and CEO of Urban Land Conservancy, which bought the Holly in 2009.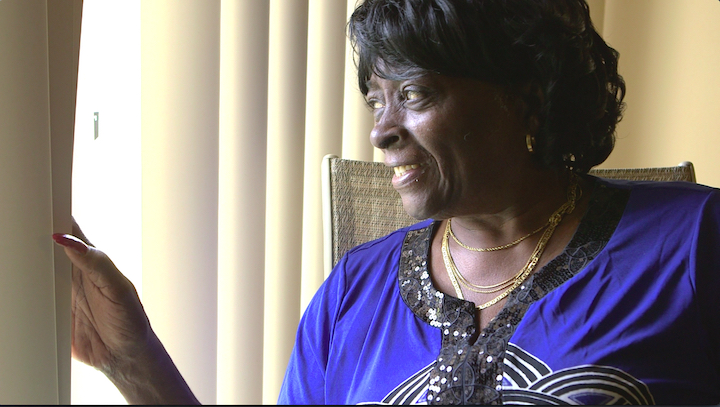 Ernestine Boyd, Terrance's grandmother, in 2017. She fled an Arkansas plantation in 1955 and took a bus to Denver. In 1960, she was one of the first African Americans allowed to live in Northeast Park Hill, eventually opening A&A Fish, a popular soul food restaurant and gathering spot.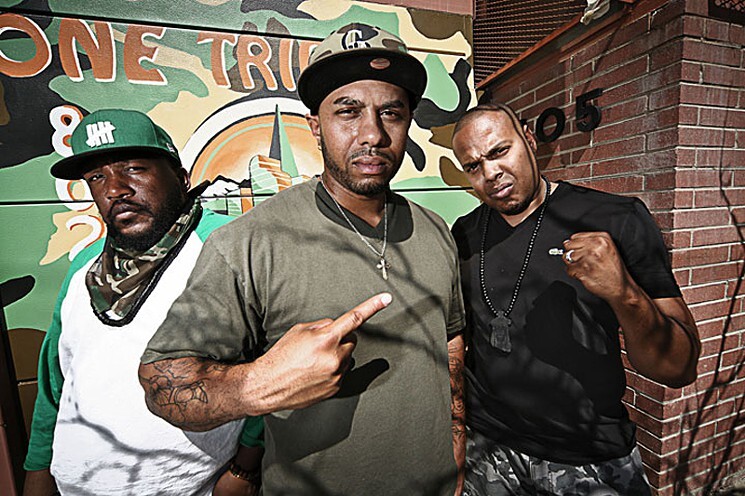 Terrance and his outreach workers, Bryan Butler and John "Qwest" Lewis, outside the Prodigal Son office. They worked under a federal Project Safe Neighborhoods grant. (Anthony Camera)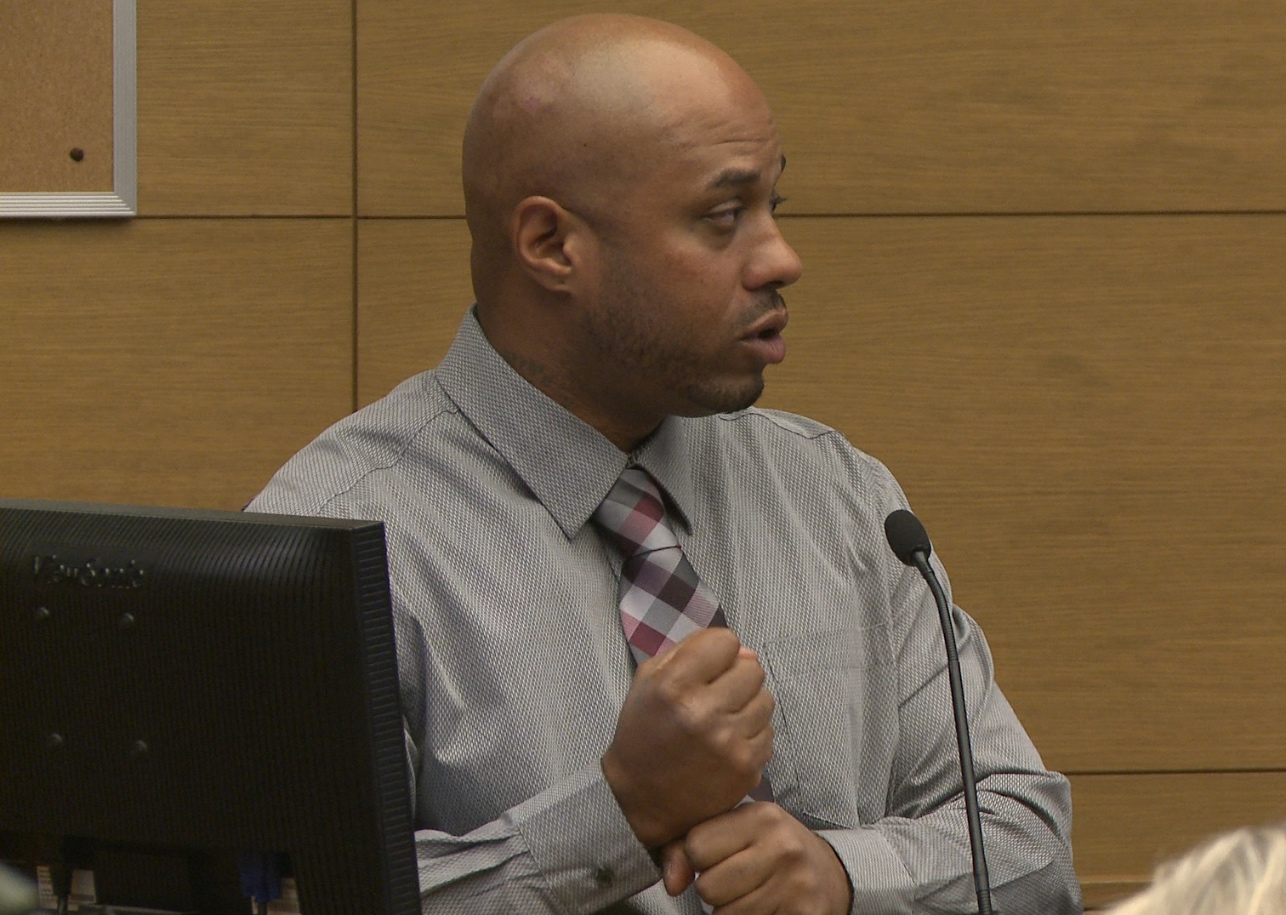 Terrance testifies at his trial, 2015.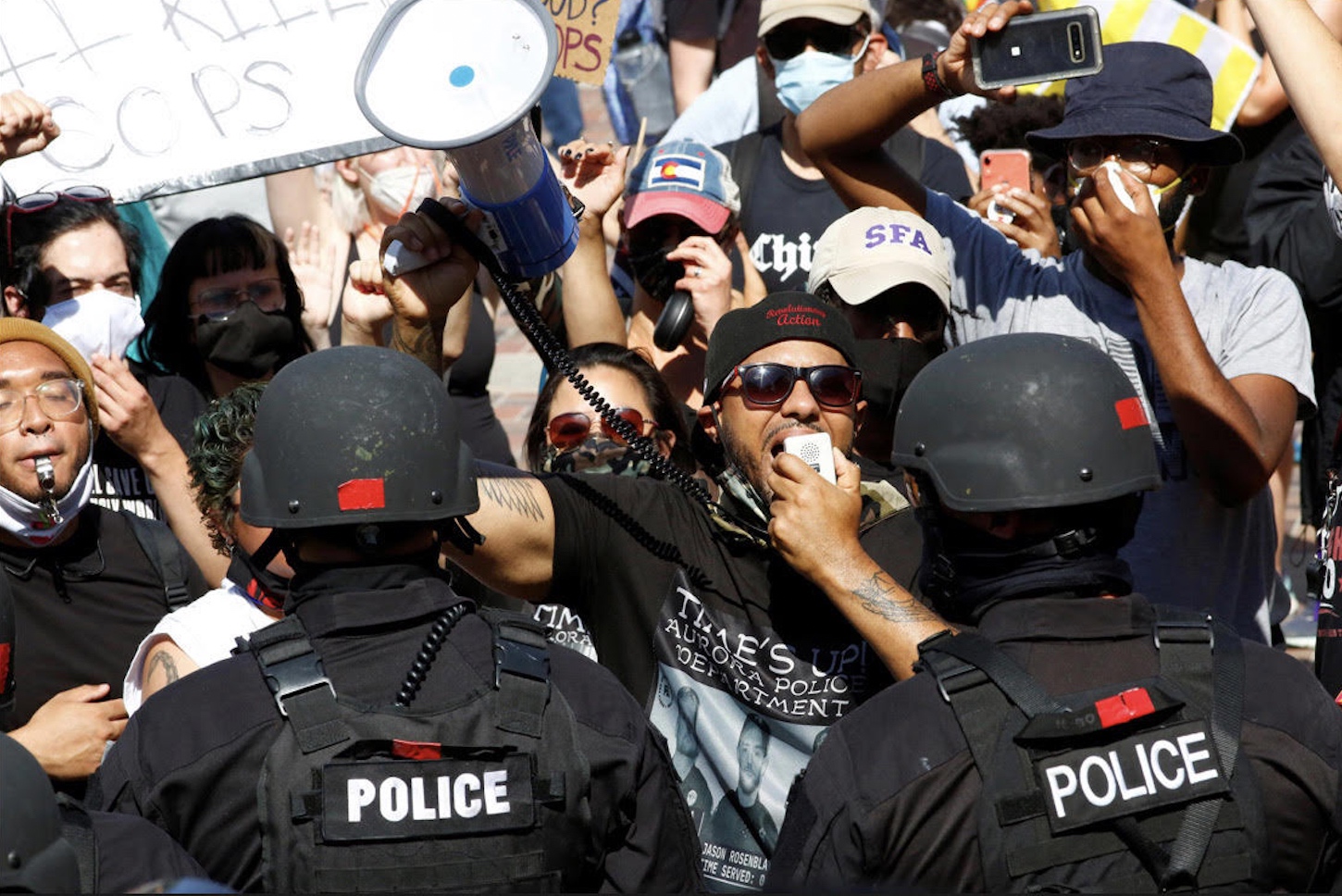 Terrance was a co-leader of the Justice for Elijah McClain movement, which has garnered nearly 6 million signatures on Change.org and helped force an independent investigation into McClain's death.
On September 17, 2020, Terrance was arrested for "inciting a riot" for his leadership of a protest at the Aurora police district 1 headquarters. He currently faces up to 3 years in prison and has vowed to go to trial.
Contact Julian Rubinstein